Tutorial: Get Started
Overview
This tutorial contains step by step information to demonstrate the basics of RDO.Net. At the end, you'll have a WPF application: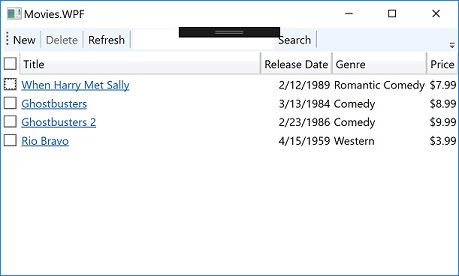 and an ASP.Net Core Application(C# only):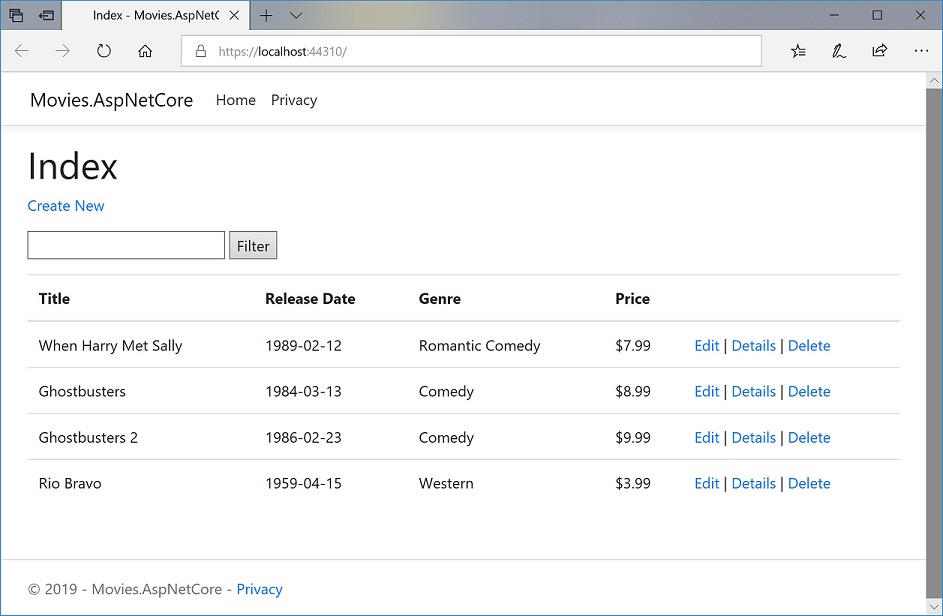 that can display and manage a database of movies.
You can find the sample code under samples/Tutorial or samples.vb/Tutorial/ in the source code repo.
Prerequisites
Create the Solution
In Visual Studio, create a blank solution Tutorial:
Add projects into the solution:
In Visual Studio Solution Explorer tool window, right click the solution Tutorial, then click "Add..."-> "New Project..." from the context menu, to add the following projects:
| Project Name | Project Type |
| --- | --- |
| Movies | Class Library (.Net Standard) |
| Movies.DbInit | Console App (.Net Core) |
| Movies.Test | MSTest Project (.Net Core) |
| Movies.WPF | WPF App (.Net Framework) |
| Movies.AspNetCore | ASP.Net Core Web Application (C# only) |
Note
It's important to name the projects correctly so the namespaces will match when you copy and paste code.
It appears Visual Studio does not support VB.Net for ASP.Net Core Web Application. Movies.AspNetCore is only available in C#.
In the end, you will have following projects created in Visual Studio: